WORSHIP
Find out more about our minister, Alasdair, and find out when our services are held and what they're all about.
ABOUT THE MINISTER
Alasdair MacMillan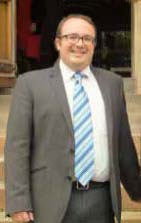 I've been part of Cathcart Trinity Church since January 2015 – serving as the Parish Minister. During that time, it has been amazing to meet the diverse and welcoming community that is God's church in this place and to worship our God together.
I believe that as we worship God and live our lives for Him every day, God can do amazing things in us and transforms the communities around us. I am passionate about helping people discover and nurture their faith in God and I have a heart for both the global church and for the local church's place in the world-wide plans of God. I believe God has a plan for Cathcart Trinity Church – is that something you would like to be part of?
Please contact me for any information about baptisms, weddings, funerals, minister's visits and formally joining the church. I look forward to hearing from you.
OUR SERVICES
Worship is a major part of our life at Cathcart Trinity. We meet to worship and bring praise to God, to pray to Him and to learn more about faith. Whether you come to worship on your own or with family or with friends, you will be made welcome.
We offer alternative styles of worship knowing that 'one size' doesn't suit everyone.
On a Sunday morning we have a service of worship held at 11am. This includes a crèche (0-3 years), Sunday Club (3 years–Primary 7) and a Pathfinders group for those of secondary age where children and young people explore the love, faith and teachings of Jesus.
On a Sunday evening we also have worship at 6.30pm. This a time of praise and reflection.
On a Thursday we have a lunchtime service from 12.45pm until 1.15pm where a light lunch of tea, coffee, sandwiches and biscuits is served beforehand at 12 noon.